Preventative
At Pine Family Dental, our priority is to encourage good oral cleaning habits to maintain healthy teeth. We place high importance on oral hygiene and its prevention of teeth and gum problems.
What is it and when would I need it?
A check-up involves examining your gums, teeth, tongue, mouth, and jaw to ensure they are healthy and problem-free. If there are any issues, it is often best to be proactive and address them before they become worse. Cleanings involve removing plaque, tartar, and stains from your teeth, and more importantly underneath your gums. If applicable, the hidden build-up of debris under the gums is difficult and in some cases impossible for you to reach with just flossing and brushing at home.
It is vital to maintain a clean and healthy mouth to prevent bad breath, tooth decay, and gum disease. Following good oral hygiene practices in your day-to-day routine at home and scheduling regular check-ups with your dentist will help you maintain a healthy mouth. The typical cleaning schedule is anywhere between 3 to 6 months, varying based on the condition of your teeth and gums.  Your dentist or hygienist will recommend the best cleaning schedule to fit your individual needs.
What should I expect during and after?
At your appointment, we will ask about your health history. Please be prepared with a list of any relevant health information, allergies, and medications you are taking. If warranted, we may take x-rays to look for hidden problems between your teeth and under the gums. Our staff is highly trained to be gentle and thorough when doing cleanings as we remove plaque, tartar, and stains from your teeth. Dr. Lok will examine your mouth, teeth and gums, and answer any questions or concerns you may have.
We will always review with you our findings and make recommendations.  Recommendations include brushing and flossing techniques, and the type of toothbrush, floss, toothpaste and rinses tailored to your mouth. If you receive a fluoride treatment at the end of your appointment, it is completely safe to eat and drink while carrying on with your daily routine. At night the varnish will naturally come off when you brush and floss your teeth.
If you are a new patient please either download and complete our new patient forms to bring with you to your first appointment with us or be prepared to fill out the forms at your appointment. Download Our New Patient Forms Here
What is it and when would I need it?
Dental x-rays are pictures of inside your body and in this case, we are looking at the insides of your teeth and also at the bone under your gums. X-rays are an important tool to compliment what we can physically see in your mouth. It helps us determine if there are cavities and whether cavities are deep enough for us to be concerned about them. X-rays also help us look at the supporting bone surrounding your teeth. It lets us know if there are signs of advanced gum/bone disease or infections extending into the bone.
The radiation in dental x-rays are extremely low. Unlike typical medical x-rays taken when you break a bone, dental x-rays are a small fraction of this. Each patient has a different x-ray schedule depending on how stable their mouth is. At Pine Family Dental we will review with you an appropriate x-ray schedule.
What should I expect during and after?
Our modern dental x-ray equipment are very sensitive and can produce high quality images at very low radiation doses. X-rays taken at our office are a comfortable experience the vast majority of the time. However, if you are a gagger or have a small mouth, talk to one of our team members and we can recommend alternative ways to take the x-ray as comfortably as possible.
Our experienced staff will help you take x-rays directly from your operatory chair. We first place a protective apron across you and then an x-ray sensor approximately the size of a bite-sized cookie in your mouth, and within seconds, the x-ray is done. With the latest digital technology, the x-ray instantaneously shows up on the computer screen.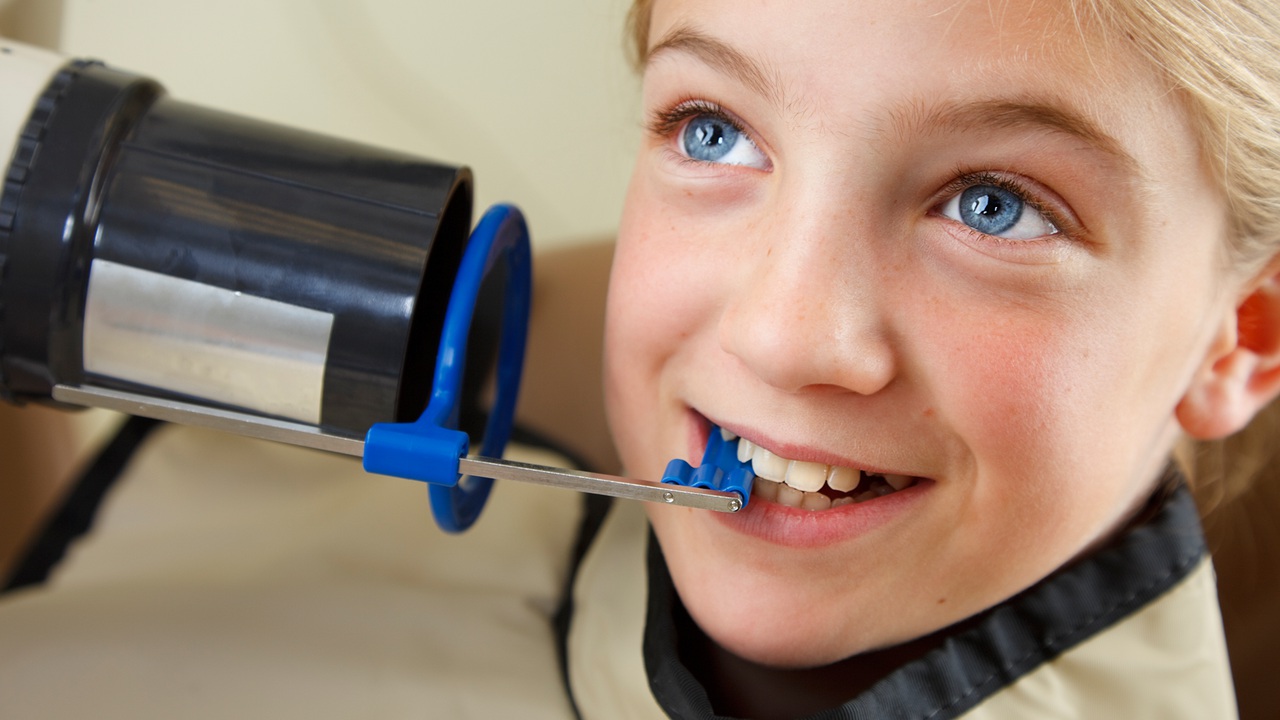 What is it and when would I need it?
There are different types of mouth guards. The 2 most popular ones are sports guards and night guards. A mouth guard is a protective shield for covering your gums and teeth.
Sports guards can be used to prevent damage to the teeth and gums during contact sports. A sports guard should be worn consistently when participating in sports that involves falling, body contact or flying equipment.
Night guards can be used to prevent teeth and jaw joint (TMJ) issues associated with teeth grinding and clenching. Many people who grind during their sleep do not know they grind because it is done during the subconscious hours of the night. During an examination, Dr. Lok can identify tell-tale signs of night grinding and discuss options with you. The damage associated with grinding and clenching can be very significant leading to muscle and joint pains, headaches, fractures in teeth and even permanent gum and bone loss. Being proactive in catching these harmful habits and mitigating it with a night guard is paramount in such cases. A night guard should be worn consistently at night.
Although there are "one-size" fits all products that can be purchased in the drugstore, a professionally custom-made dental mouth guard is far superior to these generic offerings as it provides increased comfort and more importantly increased protection.  During your assessment, Dr. Lok will discuss the various mouth guard designs and the various materials, such as acrylics versus thermoplastics, that are most appropriate for your mouth.
What should I expect during and after the procedure?
Making a mouth guard in the dental office traditionally uses goopy impression trays that set inside your mouth. This is messy at best and gaggy at worst. At Pine Family Dental, we have replaced these impression trays with a 3D digital scanner that digitally scans your teeth. It is quick, clean, gag-free and accurate. The first scanning appointment often takes less than 30 minutes. The mouth guard is then made to perfectly fit your teeth. When we deliver the mouth guard to you, we will make sure it is functional and comfortable. We will also review with you how to care for your new mouth guard.
For Night Guard Insertion, Removal and Care instructions, Click here.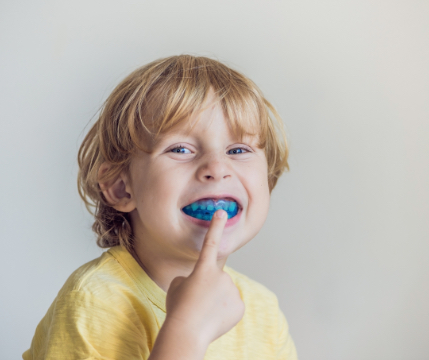 What is it and when would I need it?
No matter how well you take care of your teeth, they can darken or stain over time. There are various reasons your teeth can become discoloured.  Sometimes it is years of wear and tear, the quality of your enamel, dietary habits, social habits, traumatic dental injuries, and even medications. There are also various teeth whitening solutions available including in-office whitening, professional strength at-home bleaching systems and over-the-counter offerings from your local drugstore. Each has their advantages and disadvantages. If you are considering teeth whitening, we can assess your teeth and provide an appropriate whitening strategy that works for you.
What should I expect during and after the procedure?

Before we begin any whitening treatment, we will check the health of your teeth and then provide options for the most appropriate bleaching strategy.
Over-the-counter bleaching systems available at the drugstore is sometimes a great first step. It is inexpensive and conveniently available. However, because it is an over-the-counter product, the strength of the gels are usually weaker and sometimes it doesn't produce the whitening results you may be after.
One popular bleaching option we offer is a professional strength at-home bleaching system.  The first appointment involves taking digital scans of your teeth. From these scans, we will make plastic trays to fit your teeth exactly. You will use these trays at home with a professional strength whitening gel.  Unlike over-the-counter bleaching solutions you buy at the drugstore, these professional strength gels are more potent and effective but are only available at a dental office as it should only be used under a dentist's supervision. If over-the-counter products are not producing the results you want this may be a good option for you.
For more Tips on using your Whitening Trays, Click here.